The Huawei P20 has been announced, and we now know almost everything important about the phone, all of which you'll find below.
It's the successor to the Huawei P10 – despite the big jump in numbering – but with its notched screen it's also seemingly inspired by the likes of the iPhone X, so there's quite a lot that's different.
So, from the design and display to the camera, battery and when you might be able to buy it, here's almost everything you need to know about the Huawei P20.
We'll update this article with the missing details as and when they're revealed, so check back here for all the latest news.
Read our first impressions in our hands-on Huawei P20 review
Cut to the chase
What is it? Huawei's new flagship
When is it out? Likely to hit stores very soon
What does it cost? It will have a flagship price
Huawei P20 release date and price
Huawei hasn't yet confirmed when you'll be able to buy the P20 or for how much, but we'd expect it to hit stores soon with a high-end price – although a lower one than the Huawei P20 Pro, which has also been announced.
EE in the UK is set to offer the phone with plans like £34 a month for two years with an upfront cost of £10 – that comes with unlimited minutes and 1GB of data each month. We'll update this section with more specific release date and price details as soon as we get them.
Huawei P20 design and display
The Huawei P20 has a glass back and a metal frame like many recent flagships, and also follows the recent trend of having a notch at the top of the screen, allowing for smaller bezels overall (though you can essentially turn it off if you'd prefer, by adding a black bar to either side).
The phone comes in black, midnight blue, pink gold, twilight and champagne gold shades, with the pink gold and twilight colors sporting a 'Gradient Finish' which combines purple, blue and pink shades for a rainbow of colors. Though not all colors will necessarily be available in all regions.
It's 7.65mm thick and includes a 3.5mm headphone port, though unlike the Huawei P20 Pro there's no waterproofing tech here.
The LCD screen is 5.8 inches and has a resolution of 1080 x 2240, so it's Full HD+. That makes it lower resolution than the QHD and above flagships we're starting to see from some manufacturers, but it should still be a high enough resolution for sharp images.
The P20 has an aspect ratio of 18.7:9, meaning it's taller and slimmer than typical 16:9 screens – though it's roughly in line with many flagships from the last year or so.
Huawei P20 OS and power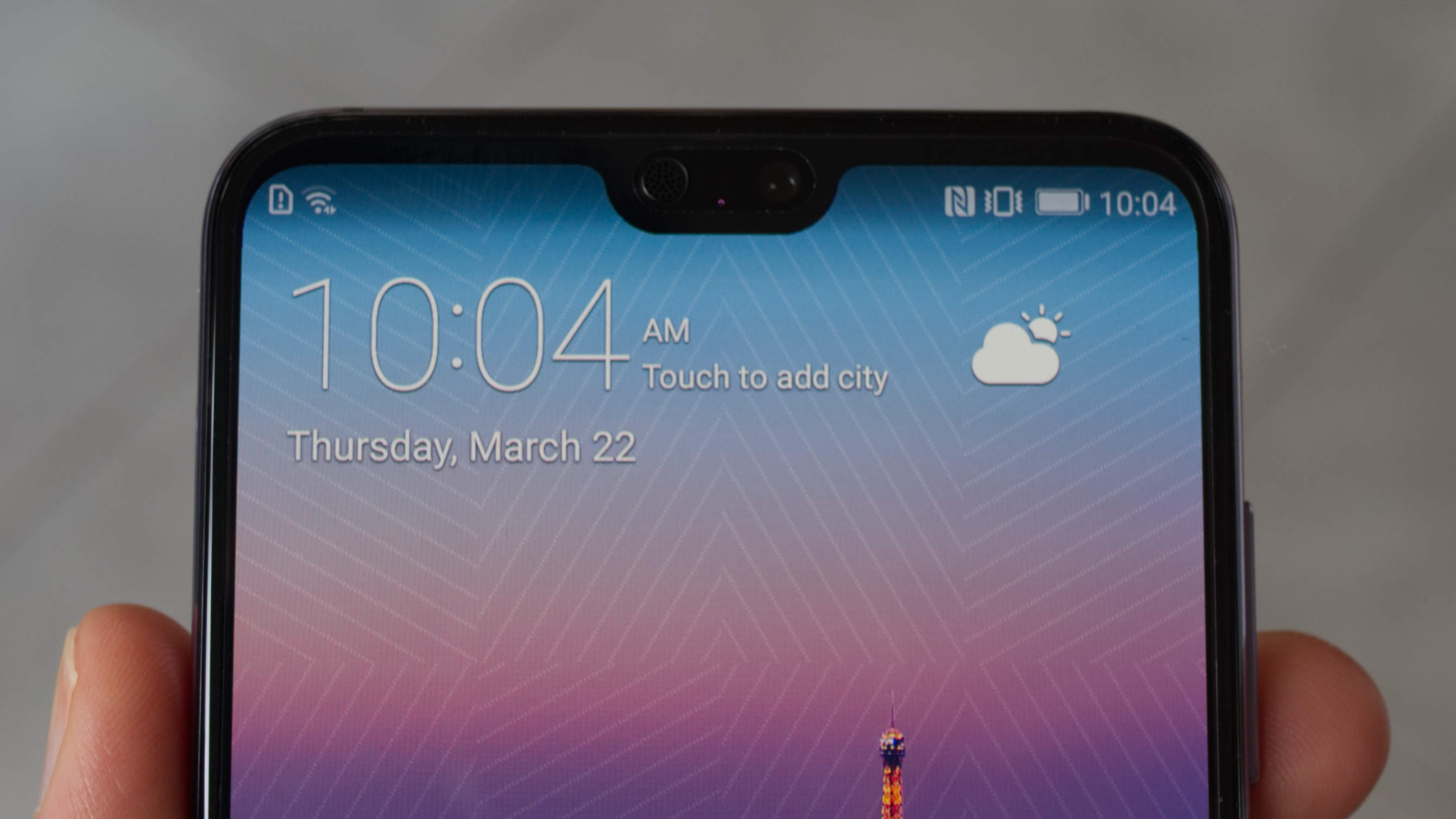 There's an octa-core Kirin 970 chipset inside the Huawei P20, which is the same as you'll find in the Huawei Mate 10 Pro (but an upgrade on the Huawei P10).
The chipset comes with a neural processing unit (NPU), which essentially means AI can do some of the heavy lifting. There's also 4GB of RAM and 128GB of storage, plus a microSD card slot, all of which amounts to high but not quite top-end specs on paper.
The Huawei P20 runs Android Oreo, overlaid with Huawei's own EMUI 8.1 interface. If you've used a Huawei phone before you'll know what to expect here, but this is one of the heavier Android overlays, so it's quite far removed from stock Android.
Huawei P20 camera and battery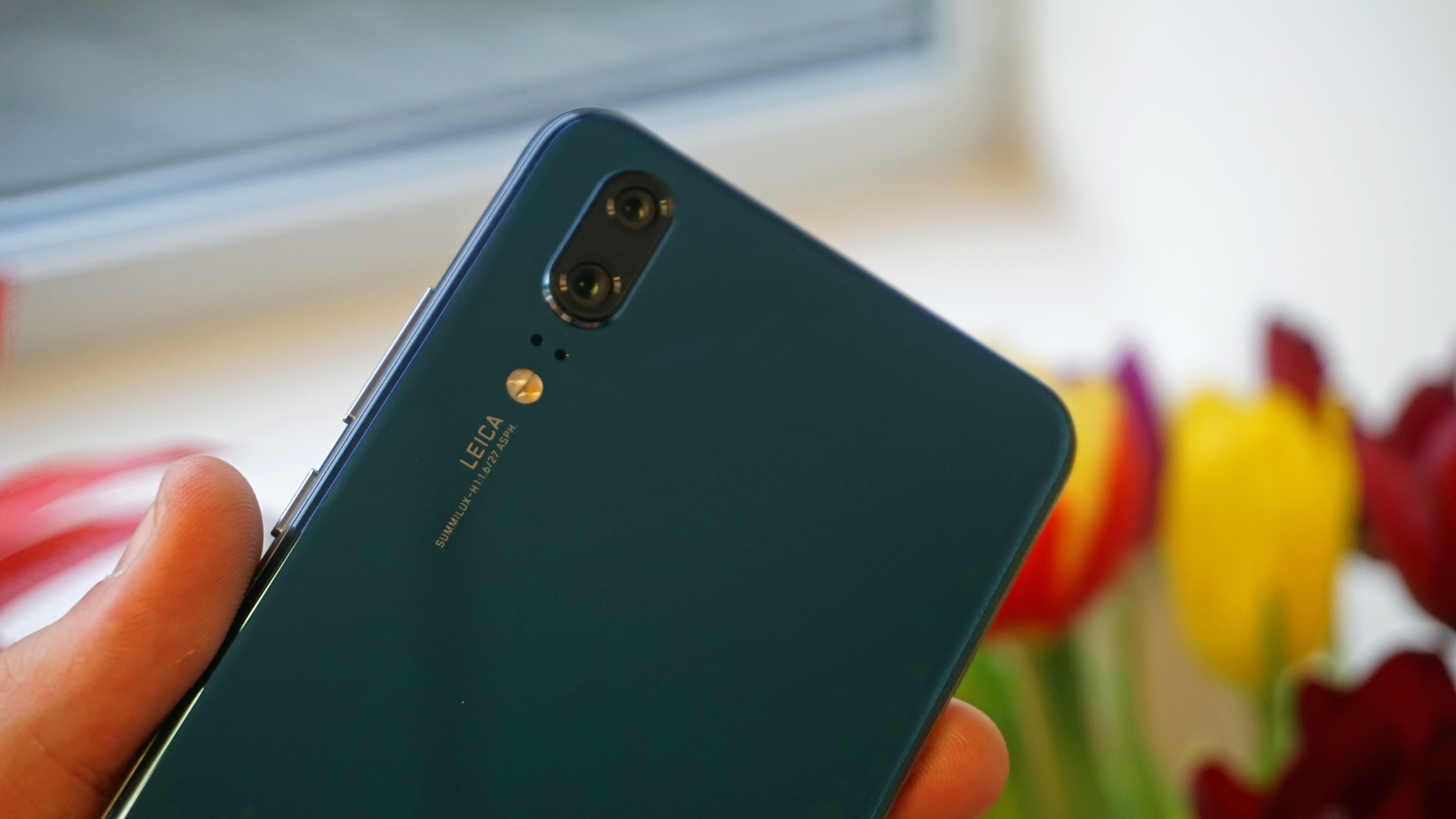 The Huawei P20 has a dual-lens camera on the back, with a 12MP f/1.8 color (RGB) sensor and a 20MP f/1.6 black and white (monochrome) sensor, which is the same sort of dual-lens setup as we've seen on previous Huawei flagships.
It's Leica-branded and Huawei claims the 12MP camera has 61% larger pixels than the company's previous 12MP camera.
The phone can also shoot slow motion video in 720p quality at up to 960 frames per second, matching the Samsung Galaxy S9, and there's a 24MP f/2.0 camera on the front.
The Huawei P20 also boasts some AI camera abilities, as it can use AI to do things like detect the type of scene you're shooting and adjust the settings accordingly, or to stabilize images.
There's a 3,400mAh battery keeping the Huawei P20 running, which is an above average size, though it remains to be seen how well it will last. The phone also sports Huawei's Super Charge feature, allowing you to juice it up quickly.
Now want to know what we think of the Huawei P20? Read our hands on review
via Click on the link for the full article